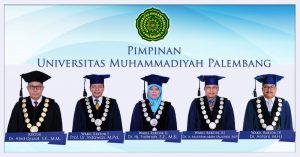 Universitas Muhammadiyah Palembang was established on June 15, 1979 and now  Universitas Muhammadiyah Palembang has seven Undergraduate (S1) and four Postgraduate Study Programs (S2). We have 12,000 students and 47,000 alumni.
Universitas Muhammadiyah Palembang has a vision of "Being a national standard university, producing graduates who are highly competitive and excel in Islamic-based science and technology, and being an international standard university in 2022". The mission of Universitas Muhammadiyah Palembang:
Implementing Higher Education Catur Dharma to produce graduates who have national-level academic competencies, uphold Islamic and national values, and prepare infrastructure towards international standard universities.
Preparing students and alumni who have high integrity based on the values ​​of Al Islam Kemuhammadiyahan to realize the young generation of character and society cadres.
Implementing the development of science, technology, and art through research and its application for the welfare of society.
Developing the conducive learning climate to produce the intellectual, emotional, and spiritual intelligence graduates.
Developing the competency-based education system (hard skills and soft skills) that are integrated with the business world and the public sector.
Implementing the academic management, human resource, finance, and quality based on planning and information technology in order to create Good University Governance (GUG).
Making a performance management system based on a Balance Scorecard (BSC) as a quality assurance tool and a performance assessment tool for implementing units of Universitas Muhammadiyah Palembang to be motivated to excel.
UM Palembang has campuses within the South Sumatra Province:
A Campus
The main UM Palembang campus is set on 3.7 hectares and is located in Jl. Jend. A. Yani 13 Ulu Palem- bang. This campus is only ten minutes from the central business district, such as 16 Ilir Market, the Grand Mosque of Palembang City and the Palembang City Council. The Faculty of Law, the Faculty of Economics, the Faculty of Education, the Faculty of Science Engineering, the Faculty of Science A griculture and Graduate program are located in the A Campus.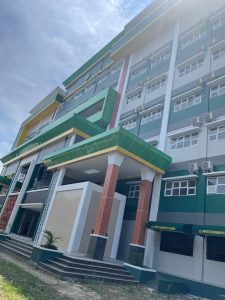 B Campus
The B Campus is situated on 1.7 hectares at Jl. Talang Banten 13 Ulu Palembang. The Faculty of Medicine and the Faculty of Islamic Studies are located in the B Campus. This campus is only 500 meters from A Campus.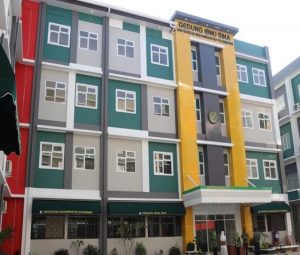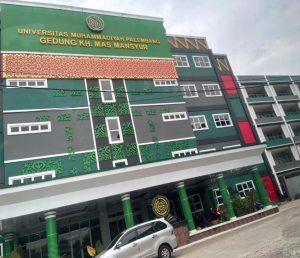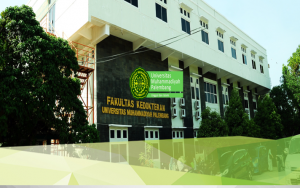 C Campus
The C Campus is set on 73 hectares in the Kec. Inderalaya Kab. Ogan Ilir. This campus is estabished for the trial plantation and the agritourism.
D Campus
The D Campus is set on 12.3 hectares in the Kec. Pemulutan Kab. OganIlir.Thiscampuswillbe established for campus extension and students' boarding house.
Facilities
Universitas Muhammadiyah Palembang offers a range of warm, welcoming student accommodation   options, both   on   and     off-campus. All   University   student accommodation is within walking distance of the university and just a short bus ride to the city centre.  Living in the university student accommodation provides an ideal opportunity for new students to build friendships and settle in to university study in an environment that is both academically and socially supportive.
Laboratory (language, science, biology, teaching)
Mosque
Family infirmary, Faculty of Medicine
Bank Syariah Sumselbabel at A Campus Sports hall
Parking area
Wi-Fi
Library at every faculty and a central library
Canteen